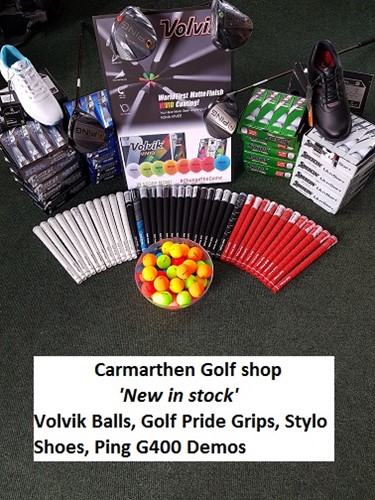 'Caution' Sales pitch coming up!
As you know, I have been brought in to Carmarthen GC to provide a full Professional Service and I would not be doing my job properly, if I didn't attempt to get you into the best equipment on the market to help your games.
Re-gripping - Its been a tough winter for your equipment and a new set of grips could be just what you need to improve your performance.
New shoes - We have just today received a new shipment of FootJoy shoes - the No. 1 shoe in golf and starting at just £49.99
Driver - The Ping G400 driver is the no.1 selling driver on the market, for a free custom fit using launch monitor, please just drop me an email.
Volvik Balls - These will certainly liven up your weekly 4 ball, great feel, great performance and harder to loose!
Last Week
Thursday - In the Seniors Qualifier Stuart Barcley won Division 1 with 42 points, Nick Ingram won Division 2 with 39 points and Jeff Peters won Division 3 with 37 points
Friday - Sheila Neate and Ina Davies won the Ladies Centenary Greensomes with 40 points. In the Bertie Butters, Alun Davies beat Matthew Thomas on count back with 37points.
Saturday - The Ladies Stableford was won by Alison Evans with 35points. The Tigers beat Newport Pembs at home 51/2 - 1 1/2.
Sunday - The Blenheim Cup was won by Peter Ashley-Jones with an incredible score of 83 gross (just 1 shot off shooting his age!!)net 67 . Carwyn's Knights / Rabbits did a very impressive 8-0 victory over Ashburnham.
Monday - Seniors South Wales Classic B's beat Derllys A's at Derllys 3-0.
Tuesday - Senior South Wales Classic A's beat Pontardawe B's at Pontardawe 3-0
Next Week
Thursday - Seniors Bill Naylon Salver 1 9am-11.40
Friday - Bingo Night!!!! 7pm
Saturday - Ladies Rhian Pearn Qualifier, Challenge Bowl 10.30-11am
Sunday - Mixed Open 9am-4pm
Tuesday - Ladies May Medal 1, Rhian Pearn Qualifier, Challenge Bowl. 11am-1pm
Wednesday - Range Closed 8am-10am for Ball Collecting & Cutting
Other News:
Last week I missed out the news that, Eirian Evans and Chris Jones beat Garnant Park away 6&5 in the second round of the Daily Mail Foursomes. Congratulations both and good luck in the next round.
Just for fun!
There is a deliberate mistake in this email, if anyone spots it and gets it right, you will win a brand new Volvik ball! (it's not my grammar :') )