Coaching Philosophy, Lessons & Workshops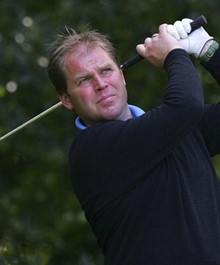 Having spent many years coaching golf to the highest level, I have found that my coaching philosophy has remained the same.
Although we have seen large changes in equipment and technology, statements made by companies that this equipment helps give the players more consistency. No equipment technology can make up for a fundamentally poor swing and technique.
My thoughts on the golf swing are clear!
We are all built differently and have limitations and whatever your personal limitations are? You can still learn and improve as a golfer by getting the fundamental basics right!
There are many different trails of thought when it comes to swinging a golf club but in my experience there is only one way to start your golf, to improve your golf and importantly enjoy the game of golf.
The understanding of the still mechanics is for me the most important, they are in an order, GRIP, STANCE, POSTURE, BALL POSITION and ALIGNMENT.
You cannot start to think of playing golf until you understand the importance of these 5 things and work to ensure that these are set in stone with your pre shot routine, before you need to worry about swinging the golf club.
Regardless of your standard as a golfer almost all faults caused within the golf swing can be traced back to these basics. They may be less noticeable as an elite golfer but you can almost guarantee that there will be a fundamental issue that will cause the swing fault.
I like to simplify the golf swing and for my pupils to understand the key elements of the set up or (Still Mechanics). And then work with me on the moving elements of the swing with a much clearer understanding of what they are trying to achieve.
As a highly qualified golf coach I can be as technical as any golfer requires, but through experience I have seen great success with a simple and easy to understand approach to the golf swing and build the swing over time and practice. And it works!
---
The teaching staff at Carmarthen Golf Club offer a full range of coaching, with specialist instruction in all areas of the game.
Clive Coombs PGA Advanced Professional
| Duration | Description | Price |
| --- | --- | --- |
| 30 Minutes | One-to-one | £25 |
| 1 Hour | One-to-One | £50 |
| 30 Minutes | Video Analysis | £25 |
| 1 Hour | On Course | £50 |
| 2 Hour | On Course | £90 |
| 3 x 30 Minutes | One-to-One | £70 |
| 6 x 30 Minutes | One-to-One | £125 |
| 10 x 30 Minutes | One-toOne | £200 |
| 1 Hour | Group Lessons | From £6 pp |
For all your golf lessons, equipment and advice please call into the golf shop or contact us on:
Clive: 07402 447770
Golf Shop: 01267 281588
Email: clivecoombsgolfservices@gmail.com